Metals
2015 SILVER EAGLE DEMAND: Continues To Be The Big Winner
from SRS Rocco:
As the global financial system continues to disintegrate under the weight of massive debt and hyper monetary printing, investors choose to purchase a great deal more silver than gold.  While this trend continued to get stronger over the past several years, it hit a record high ratio in February.
From 1987 to 2000, the U.S. Mint sold 15 Silver Eagles for every ounce of Gold Eagles.  Then from 2001 to 2007, this nearly doubled to 29 Silver Eagles for every ounce of Gold Eagles.  However, after the collapse of the U.S. Investment Banking and Housing Industry in 2008, this ratio continued to increase: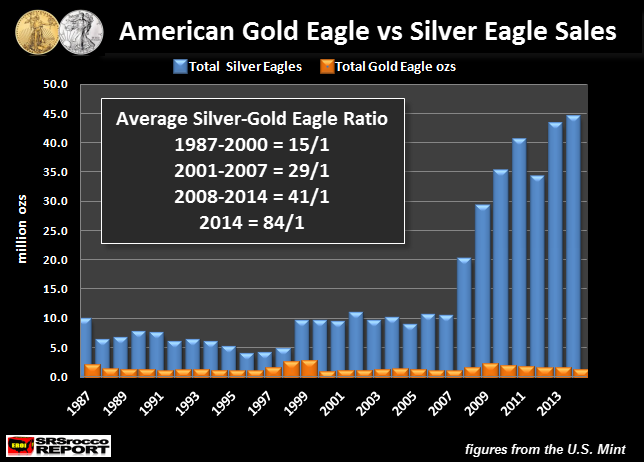 From 2008 to 2014, the rate of Silver Eagle to Gold Eagle sales jumped to 41 to 1.  What is even more amazing than that statistic, is the Silver to Gold Eagle ratio in 2014.  Investors purchased 84 Silver Eagles for every Gold Eagle oz in 2014.  The U.S. Mint has not released its 2014 Annual Report, but I would imagine total Dollar sales of Silver Eagles was probably higher than Gold Eagles last year.
Now, if we look at the current demand for U.S. Mint official coins, Silver Eagle vs Gold Eagle sales in February are a staggering 213 to 1:
In the first ten days of February, the U.S. Mint sold 1,389,000 Silver Eagles compared to 6,500 Gold Eagle oz.  This 213/1 Silver to Gold Eagle buying ratio is quite significant when we compare it to global mine production.  Using data from GFMS 2014 Gold & Silver World Surveys, total world silver production was 820 million oz (Moz) in 2013 compared to 9.7 Moz of gold production.
Thus, the world produced 8.5 oz of silver for every ounce of gold in 2013.  I would imagine this ratio will be about the same this year.  So, as the world produces 8.5 times more silver than gold, the U.S. Mint is currently selling Silver Eagles at more than 200 times the rate of Gold Eagles. 
Furthermore, the USGS just released its 2015 Silver Summary showing the United States silver production increased to 37.6 Moz in 2014 compared to 33.4 Moz in 2013.  Even with this 4+ Moz increase of domestic silver production in 2014, it was less than the total amount of Silver Eagles sold by the U.S. Mint last year.