The Daily Coin
Metals
INDIAN SILVER IMPORTS: On Track To Smash All Records
by Steve St. Angelo, SRSrocco Report, via The Daily Coin: 
As it pertains to silver, something big is taking place in India.  While investors were amazed by the massive volume of Indian silver imports last year, 2015 may turn out to be a real whopper.  Indians are buying so much silver, they are on track to surpass 2014's record by a wide margin.
So, how much silver is India importing?  Well, according to Koos Jansen's article at Bullionstar.com, India imported a record 7,063 metric tons of silver in 2014.   This was up 15% from 6,125 mt in 2013.  Which means, India imported 25% of world silver mine supply in 2014.
So, how about 2015?  Well, ETF Securities just put out their Precious Metals Monthly Report for May 2015 and stated the following:
The latest data through April show India silver imports running about 30% above the 2014 record pace, on track for about 300 mn ounces of imports in 2015. India imports alone are on pace to consume about 1/3 of total global silver supply available in 2015.
Amazingly, India's silver imports for the first four months of the year are 30% higher than 2014 and are on pace to reach 300 million oz (Moz).  Converting 300 Moz to metric tons, it turns out to be 9300 mt.  That's a heck of a lot of silver.
Note:  1 metric ton = 32,151 troy oz.
I tried to get exact monthly data on India's silver imports the year, but had to put together the chart below based on figures I acquired from various sources.  Please note, the chart below is an estimation of India's silver imports Jan-Apr 2015: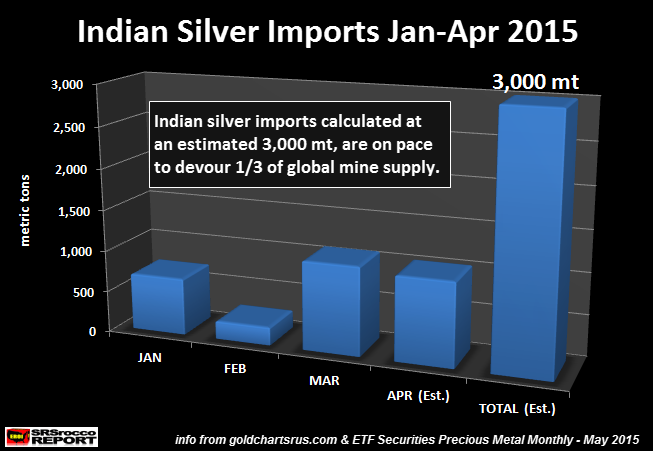 According to the Indian monthly silver imports chart, by www.goldchartsrus.com, India imported approximately 1,990 mt during the first three months of 2015. In addition, ETF Securities stated in their May 2015 Report, Indian's silver imports through April were 30% higher than 2014's pace. I estimated total Indian silver imports were about 3,000 mt or 96+ Moz for the first four months of the year.
If Indian silver demand remains strong for the rest of the year, total imports may reach 9,000 mt (300 Moz) in 2015.  Total global silver mine supply was 877 Moz in 2014.  Thus, Indian silver imports in 2015 could consume a third of world mine supply compared to 25% the previous year.  I would imagine, if the price of silver remains in the $15-$17 range, Indian citizens will continue to purchase record amounts the shiny metal.
Moreover, U.S. silver imports continue to be elevated in 2015 compared to last year.  As I mentioned in my article Why Is The U.S. Importing So Much Silver Bullion??, silver imports spiked in the beginning of 2015 even though market indicated a flat or slightly lower demand.  Thus, while Indian citizens are taking advantage of the current low silver price, it may be high net worth individuals or large institutions stockpiling silver bullion in the states.
I will be publishing an update next week on U.S. silver imports.
Lastly, I am finishing up the last bit of work on THE SILVER CHART REPORT which I will roll out shortly.  It has 48 of my top silver charts over the past seven years, all updated, including many new ones never seen before.  This will provide the new and experienced precious metals investor a unique view of the silver market and industry not found in any other official publication.
– See more at: http://thedailycoin.org/?p=32641#sthash.bHHJJTfv.dpuf
Read More @ The Daily Coin.com